The 120 Club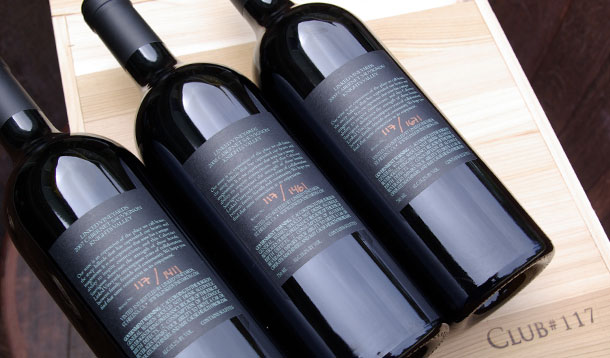 We debated the sense of having a club with only one wine to offer. But in keeping with the spirit of Linked, we believe "The 120 Club" will strengthen that connection between you and our family and property. Membership guarantees your allocation of our highly acclaimed Cabernet Sauvignon and provides access to special events and offers.
The 120 Club will be limited, not because we want to keep people from enjoying our wine, but because we want to provide a very special benefit to our best friends. One such benefit is our "Vintage History Collection." Each year we put away 120 bottles of the current release to hold as library wine. Every three years we will offer club members the opportunity to purchase a three year vertical of a bottle-number matched set in a numbered cedar box. Upon signing up for the club, you will select your number between 1 and 120 from those still available. This number will remain yours for as long as you are a club member.
Club membership makes maintaining your connection to Linked Vineyards that much easier. You will receive a 20% discount on all purchases and a regular annual shipment. It is available in three levels: 3, 6 or 12 bottles per year. Wine will be shipped in November of the year of release, weather permitting.
So, what's your number?
Join
6 Degrees: 3 Bottles — $288 plus tax
Join
6 Degrees: 6 Bottles — $576 plus tax
Join
6 Degrees: 12 Bottles — $1,152 plus tax
Benefits
You will receive a 20% discount on all purchases.

You will also be the first to receive 3, 6, or 12 bottles of our newest release of Linked Vineyards Cabernet Sauvignon each fall.

Complimentary ground shipping is included for all 120 club member orders.

Your reserved hand numbered library collection held for you until the release of a three year vertical selection.

Enjoy exclusive private tastings at our stunning mountain vineyard, where we welcome appointments for you and your guests.

You will receive invitations to exclusive events, including our annual release party.

12 Bottle members receive 3 year vertical library collection FREE!